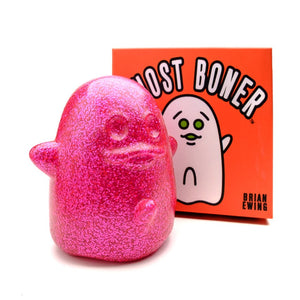 Ghost Boner By Brian Ewing - Pretty In Pink
Some say it was with a hammer while others say the grisly act was committed with a questionable sex toy.

Either way, when cartoonist Frank Parsons murdered his prankster-roommate, Bryce, and pounded his remains into ink and paper to hide his crimes. Unleashing "GHOST BONER"! 

Just as Cain who slew Abel, Frank is forever doomed to draw his victim and former friend, as the lovable and naughty...ghost with a boner!
------

 Ghost Boner Vinyl Art Toy by Brian Ewing
3" vinyl art toy
Pearl Jamz Edition Limited to 50 pieces worldwide
Produced by UVD Toys!
Please write us at uvdtoys@gmail.com or fill out our contact page if you have any questions. Thanks!
© 2021 All Rights Reserved